Testimonials
"Thank you for the shirts!! We appreciate the great job you did for Neil Krinkes sale😁 Annette n Bryan Krinke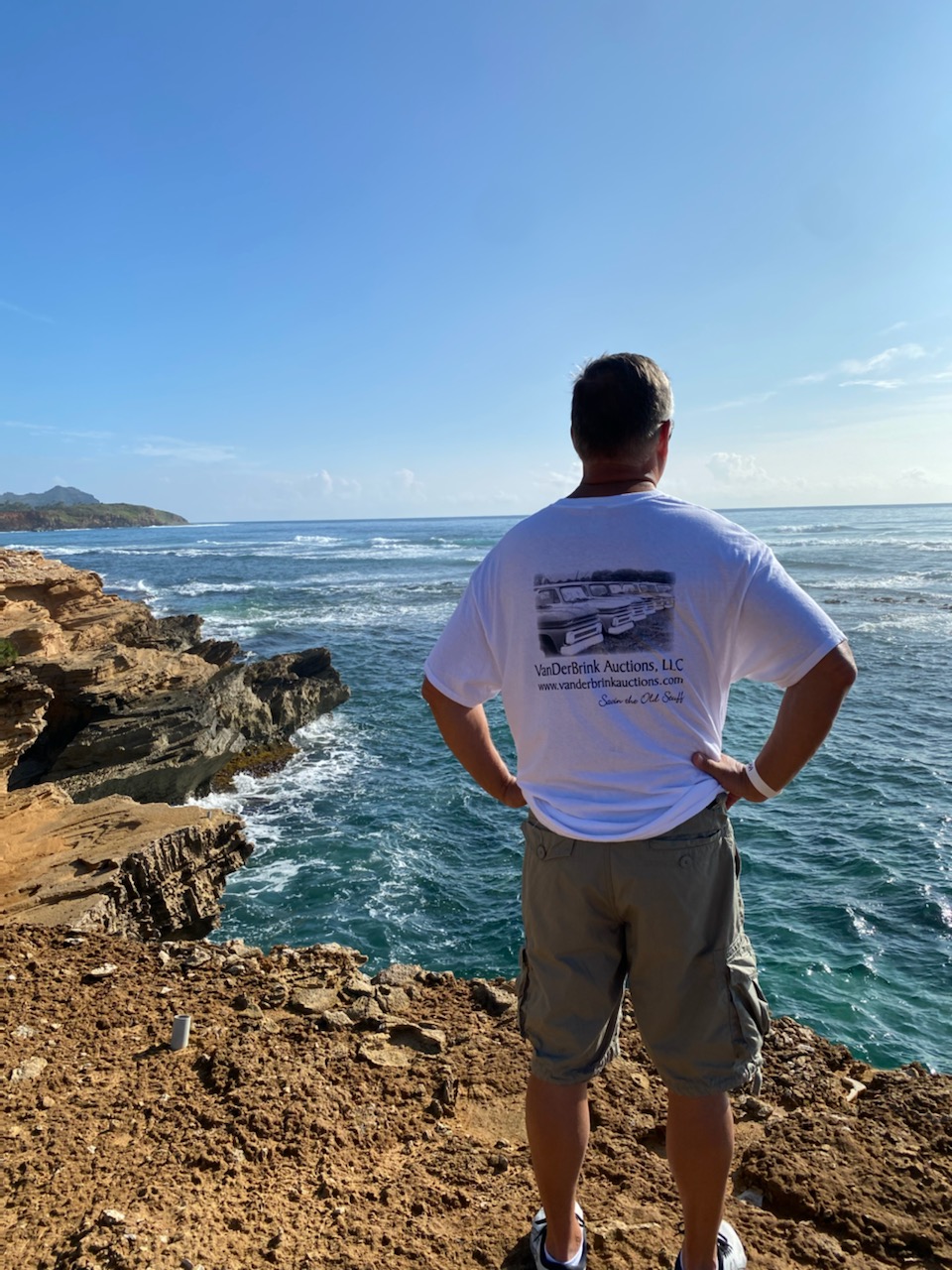 "
— The Krinke Family – North Dakota
"Sell them Good!" said Toppy and Vanderbrink Auctions delivered; that is the cars and all the police memorabilia in Nevada, Missouri last October 31, 2008. This private collection of cars, 60 in all, was a 50 year passion for cars by one 96 year old retired pharmacist. It took over seven months to get them cleaned up and running, (all but one) and they all sold in less than three hours. It was an amazing sight! Yvette and her family came to give it all they had and, "Sold them Very Good". So good that she is in charge of our next big auction this October. We never even considered any other auctioneer, Yvette has exceptional skills, insight and energy, and with the personal touch that means so much; after all it took Toppy 50 years to collect the masterpieces; Yvette Vanderbrink handled the project with the pride "Toppy" deserved."
— Toppy Clark & Son
"Thank you very much for all your help. You are the best auctioneer I have ever worked with, you always return calls promptly and you always have the answers to my questions. Larry goes to at least 30 auctions per year and I'm always happy when Larry is going to one of your auctions. Larry is also impressed with you and he doesn't say things like that much. Thank You!"
— Darby Z.
"I believe I've said 'Thank You' several times already and I do greatly appreciate your determination and experience. I've strongly praised you to my family and friends for the beautiful video you put together for Henry on the website. It's no wonder you have such a strong, widespread following! Thanks, again!"
— Twila Bents, The Henry Bents Estate
"You done good, girl. It was a pleasure working with you and spending time with you."
— John Crabtree
"We were so pleased with our auction yesterday we don't know how to thank you. We had never attended an auction that was so well organized, and went so smooth. The screen made a world of difference, every one could see the items on the block so easily. The internet calling in to join in the auction was just wonderful. You must have advertised in just the right places to have that many calls during our auction.

We want to let you know that if we hear of anyone needing an auctioneer, you will be the first to be recommended. Again, thanks so much for being so organized, and doing such a splendid job for us. Bless you."
— Milt and Audree Beyer, Classic Cars - Gas & Oil Signs & More at Auction
"Yvette, you are the greatest. It was wonderful working with you."
— Janet
"Thank you for you and your crew making a hard day- easier. Thank you for doing a great job. Thank you for helping us through our Dad's Estate Process."
— Julie W
"Thank you! It was a lot of stress as a seller and you helped us through that. Thank you for all the hard work for us Carditis'. Somebody's got to do it. You got crazy money on a lot of stuff. Team effort.

Carditis: Car guys with carditis-like a car disease."
— Scott Bullock
"Thank you and all at VanDerBrink Auto Auctions for the amazing event. We are eternally grateful."
— Brad Borkhuis, Borkhuis Collection Auction
"Yvette, had a great time at todays auction. Easy and friendly environment. Although the cars I wanted got too high for me, I enjoyed my experience."
— Paul & Mary Borkhuis
"I want to thank you Yvette and all your team what a great relationship you have with them. We truly are grateful for such a great auction!"
— Mary Borkhuis, Borkhuis Collection Auction
"Glad to have done business with you and your company. We will need to do this again at a later time. Thank you and tell your staff how much we appreciate them and their expertise."
— Joyce Merriman, Carl Davis Collection
"Nice work. You did us a good job."
— James A. Wagner- Attorney 2015
"As a car collector, and auction fan, you have my admiration. You kept it going, and interesting, and you and your team clearly had prepared and done this before.
You have what it takes to have an "American Pickers"-like the TV series. Anyway, thanks for a great day of photo ops. Keep up the good work."
— Wayne Blackmon
"What a great auction! We had a wonderful turnout and a great outcome! I highly recommend VanDerBrink for your auction."
— Dwane Boxdorfer
"Yvette, I have received exactly what I wanted, thank you for your fast response to my request. The auction was done very professionally, and I thank you for the entire family, as well!"
— Curt Lundberg
"I just want to say "Thank You" for what you do. [First of all] saving history (cars, trucks, tractors, etc.) for the future and, [secondly] helping owners and their families with a difficult job. Thank you, Mrs. VanDerBrink."
— Mike Tonry
"Thanks for conducting such a top-notch and well run auction. I will be attending future car auctions and if you can keep me in touch in advance I will be better prepared to bid accordingly. look forward to speaking with you again someday. Thanks for your help!"
— Best regards, Lloyd
""Yvette told me a well-organized and well-advertised sale has got to be a success. And she was right!"
— Les Schuchardt; Spearfish, SD
"Your auction company is the best, I truly mean this. When dealing with any of the other auction companies, it just feels wrong, I walk away feeling "dirty". They are all shiny, smooth and slick. All phoney. You and all your employees make a person feel comfortable and at home, like my business is really valued. Hope to attend another of your sales again sometime. Many thanks again."
— Steve
"We decided to have a sale late. Under quick planning on your part, we experienced everything we hoped for under less than ideal weather conditions. [There was a] really good crowd with people ready to spend money. We were extremely happy with the outcome"
— Don Miller
"Just wanted to say, excellent job on the auction. You couldn't have picked a better weekend. We had a wonderful time. I didn't come back with as many cars as I had hoped but at least I got one '56 Ford on the end of the row. You really know how to market this stuff. I'm spreading the word about your company. Also, the other guys and your daughter did a great job, too. Hope to get to another auction sometime. Good luck with things and thanks again for what your doing."
— Trenton Browne Salvage; Sunset, Texas
"Thanks again for all you did. It would not have been as good a sale without you."
— Martha, Linn Collection Auction, June 2012
"My life is better for having known you. Thanks again for all you did and keep in touch."
— Mary, June 2012
"You did an excellent job for our family with our Auction. We are very happy. Thank you for everything you did!"
— Bob VanderPol, VanderPol Auction 2011
"Yvette, I have good memories of you helping me along with Del Beyer. You ran a fantastic show; my sale was the "buzz" for quite a while around the coffee table. Wow, did we ever work our tails off but that was fun and oh, the memories."
— Harriet Green; Hull, IA
"You run your auctions like a well oiled machine."
— Thomas Russom
"Thank you VanDerBrink Auctions for a great Sale. WE are absolutely thrilled with the results and thank you. It was amazing that over 300 on-site bidders from 23 states and 2 countries and over 130 on-line bidders from all over the US and 4 countries were actively bidding for our collection. Thank you also for donating your services and commissions for the Sale of the 1932 Ford BB truck to the V-8 Foundation!"
— Ron & Shirley Stauffer; Portland, Indiana
"I had a wonderful time at the auction. Watching you and your team in action was a thrill. Cheers!"
— JB
"We Want to thank you all for having our auction, and doing such a great job. We were very pleased with the outcome and all the buyers that came from all over the US. WE were happy you could do our auction. Thank you so very much!"
— The Sammie Skjonsberg Family; Britton, SD
"Overall I was satisfied with the results. I was very happy with the way you handled the whole deal. You did a good job of advertising the sale. Your crew also did a great job on sale day. I sincerely think that you got the most for my items that they would bring on that day. I may have more items for sale down the road and I certainly would not hesitate to call on you again. Thanks again!"
— John Lindemann
"Thank you for all of your hard and earnest work. I truly have enjoyed working with you and getting to know you and your family. This has truly been an amazing process. My family has been impressed with your organization and you as a person. Thanks again."
— Bardie Skjonsberg
"t my end the auction money did what it was suppose to do. Did get to move, went without a hitch. We couldn't be happier."
— Mr. and Mrs. Spencer Pitts- Sioux Falls, SD 11-14-2010
"You worked our small real estate deal, like a million dollar deal. Thanks!"
— Bob and Bonnie C.
"We've never met, but as long time reader of old cars weekly, your reputation precedes you. I've read about all your auctions and the company for years, and wanted to complement you on the full page ad in the December 31st issue of OCW.

As a hands on car guy myself, I especially commend your extra efforts to get parts into the hands of restorers before the cars are crushed.

I am amused by reading the results of high buck, high profile auctions for cars I could never afford to own, but I can sure relate to the honest prices for the kinds of auctions you typically host."
— Larry Claypool; Frankfort, IL
"Your team did a great job with the Auction . Having a great week end and the feel in the air is so great . The story shared and heard well last a lift time . Thanks again."
— Lambrecht
"You did an awesome job. I really appreciate everything you and your crew did."
— Troy Nussbaum; John Nussbaum Estate
"The sale was conducted very well, lots of buyers (good marketing!), good prices, nice selection of cars (something for everyone!).

I am very pleased with the final bid of our car. I honestly didn't expect it to sell as high as it did.

You are a class act, Yvette! Thank you for allowing us to sell our car during the sale. I felt like it belonged there, with the rest of RCs cars. It was a good thing."
— Jill Edinger
"Thanks for the great job you do of representing your company and the people you sell for. I was at your Carrington, N.D. sale last year and your company came off as a first-class operation. I want to commend you on your advertising; very thorough and great coverage. Maybe one day I can make one of your sales and take home a classic."
— Ken Drovdal, Mandan, N.D.
"Thank you Yvette for all your hard work and dedication to our Dad's estate. I really don't know what we would've done without you. You really handled it so perfectly and I know this was not easy. You should give yourself a big pat on the back for this one.

Todd and I are very happy that things have turned out the way they have. You're very professional and we will do business with you any day of the week! Let us know if you have any problems with anything. We will see you this summer I'm sure. Thanks again,"
— Dawn & Todd
"I don't know how to explain her. She is the greatest. The best there is. I can't say enough good about her. She is a very thoughtful person and has your interest and the public's interests in mind. She is very good!"
— Lloyd May, Neponet, Illinois; "The 427 Ford Man Auction 2007"
"I just wanted to let you know I felt you and your crew did a great job handling the Lerum auction on May 30. Very professional auctioneers who handled every issue fairly."
— John
"I got the Minneapolis Moline R home today. With 100% certainty I can say that it is my grandfather's tractor. Everything that I was told to look for on an R is there.

Thank you for your help lining up a hauler and for using Proxibid so that I was able to "attend" the auction."
— Jim Checkel
"I enjoy your auctions, although they cost me alot of money, but you find stuff that we would never find. You do a very good job finding the stuff, preparing it and selling it. Keep up the good work. God isn't finished with you yet and i thank him for that."
— Ron from Wisconsin
"I recently attended the Forrest "Toppy" Clark auction in Nevada, MO, and just wanted to send you a short note letting you know how much I enjoyed it. Aside from having gone to the Barrett-Jackson spectacle in Scottsdale this past January, this was my first "real" car auction. I had a great time. I drove all the way from Chicago and I'd do it again.

I signed up for your email list today and look forward to getting to another one of your auctions soon. Who knows, I may even buy something next time. (I will have to clean out the garage first!)"
— Roland Filippi
"Yvette is a class act. I bought a car from one of her auctions in WI and it was class A. A real tribute to professional auctioneers!!"
— Roadrunner3834Speed, Buyer at the Wisc. Auction, 2006
"We just read the results of this auction and got such a kick out of the story. We are the "older honeymooners" who bought the 1967 GTO and drove it home! We noticed that you wondered if we made it, and we can say that it drove like a dream and it is now sheltered in our garage in Forest City, Iowa. This 67 also joins a sister GTO we already own, a 1969 GTO Convertible that was just recently completely restored.

We would also like to say that this was one of the very best run auctions we have ever been to. We enjoyed it very much, and, of course, it was a lot more fun because we bought such a beautiful car. Our thanks goes out to John Bramwell for doing such outstanding work. So thanks for giving us a chuckly today. We will definitely watch your webpage for future auctions."
— Bob & Kathy Olson, Forest City, IA
"Yvette, Thank you for having the Auctions. I am glad you are trying to help the Car hobby."
— Joni
"I believe that everyone involved, including myself, was amazed to see you not only reach your appraisal value but surpass it."
— Samuel P. Weiler, lawyer for the estate of Charlie & Lois Bowman
"In the not-too-distant past, car auctions were a good barometer of a car's value. And in some cases, that's still true."
— Gino DiPol, Publisher The DeLuxe Road
"Thank you for coming up to Moorhead to provide auction services for the Jerry Johnston Estate.

You brought car enthusiasts together from around the region for sale day.

Several area car clubs were represented.

You were able to get top dollar for the cars on a cold, snowy, winter day."
— Mark Sell, Fargo ND
"Thanks again for helping with the farm, I could not have done it without you!!!"
— Jackie
"I just read your story at journal.classiccar.com and wanted to thank you for helping save a big part of our heritage. Your drive and trust in God's guidance in your profession is exemplary. Thank You and may God keep blessing you and your good deeds."
— Ken Switzer – Vicksburg, Mississippi
"You folks run a good program over there. I am Looking forward to your next auction!"
— Scott G – Massachusetts