The Clyde Brown Estate- The Old Man with a Shed full of Caddies and Raccoons..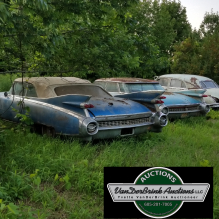 The Clyde Brown Estate
"the Old Man and a Shed full of Cadillacs"
Nobody knew that Clyde Brown had all these treasures at his home and hoarded away in sheds. He passed away and his family started the task of accumulating his treasures. Outside of Hartford, Wisc, was an overgrown shed that was packed full of old cars. The family asked around and were told to call Yvette VanDerBrink, VanDerBrink Auctions, LLC, She'll help you. Yvette got the phone call and said they had a shed full of old cars with racoon crap everywhere. Yvette asked what type of vehicles. They answered some old Cadillacs. Yvette asked if there were any big "Fins"? Indeed there was and she was sent a cryptic picture of a dark shed with covered and dirty cars. Just one glimpse of the huge tailfins and Yvette knew that it wasn't junk, as the family thought, but a hidden treasure of Cadillacs. They contracted for an ON-Line Only auction in February with VanDerBrink Auctions, LLC and in Spring they dragged out the cars to the sunlight for the first time in a long time. Yvette came up for pictures and inventory and was amazing at the hoard of fins in plain sight. 11 1959 Cadillacs from Rare 1959 Eldorado Biarritz Convertible to 4dr HT's and even a Limo. They were inventoried and pictured and Yvette called Steve Towing to hide 6 of the rare cars away for safety. The family came out and asked, "Is there anything here that someone would want?" It was amazing, to have so many rare cars in one place. A 1953 Buick Skylark Convertible 1 of less than 800 and 2 1959 Cadillac Eldorado Biarritz Convertibles, 2 of only 1320 made and less surviving. 38 vehicles in all. 4 Rare vehicles. The cars were put in an online only auction with national, social media, and local promotion. Collector were a buzz that this barn find was right in their backyard and they didn't know it. Old Cars Weekly, Angelo VanBogart was given a personal tour and invitation from VanDerBrink. It was a story, and big news among collectors. Word spread fast and bidding was just as fierce. This collection that the family thought was "old cars" by the time the online auction was done fetched over $250,000!
Several of the cars set new world records for their rough conditions. They all needed restoration. All the vehicles sold outside the area. A rare blue 1959 Eldorado Biarritz Convertible Sold to California for $91,300, the other 1959 Biarritz convertible with Quarter gone for $66,000! The 1959 Cadillac Limo for $12,650, and more. Results are on the website www.vanderbrinkauctions.com and below. Nothing ran and everything needed complete restore. There was a Rare 1932 Chrysler that went to GA, and bidders came and got their rare cars and treasures. The family is grateful for VanDerBrink's Honesty and knowledge and marketing in helping them turn a dirty bunch of "old Cars" into a gift from a deceased family member that left them with a lot of work and more memories. Below are the results from the online auction. If you have a collection to sell, call VanDerBrink Auctions, LLC.
Yvette VanDerBrink 605-201-7005 or www.vanderbrinkauctions.com.
Yvette VanDerBrink- VanDerBrink Auctions, LLC